Services And Capabilities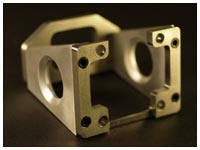 HQ Industries machining is precise to meet the demanding requirements and specifications. Our end product has the highest level of quality, accuracy and efficiency.
HQ Industries 12,000 square foot facility houses nine CNC turning centers. Capacity ranges from 17" to 26" maximum turning diameters and 34" to 80" maximum turning lengths. We also house three CNC Vertical machining centers, maximum capacity 84"x 40" x 30". Along with our CNC centers we also have conventional machines, electrical discharge machines, bandsaws and measuring equipment.
CNC Turning Centers
| | | | | | | | |
| --- | --- | --- | --- | --- | --- | --- | --- |
| SL20 | | | | ST30 | | ST40 | |
| Chuck Size: | 8" | Chuck Size: | 10" with Live Tool | Chuck Size: | 15" | Chuck Size: | 15" |
| Capacity: | 10" x 24" | Capacity: | 17" x 34" | Capacity: | 17" x 26" | Capacity: | 25.5" x 44" |
| Bar Capacity: | 2.00" | Bar Capacity: | 3.00" | Bar Capacity: | 4.00" | Bar Capacity: | 4.00" |
| Spindle Motor: | 20 HP | Spindle Motor: | 30 HP | Spindle Motor: | 40 HP | Spindle Motor: | 40 HP |
| | | 4 Machines | | | | 2 Machines | |
| | | SL40BB | | SL40BB-L | | | |
| Chuck Size: | 15" | Chuck Size: | 18" | Chuck Size: | 18" | Chuck Size: | 24" |
| Capacity: | 17" x 34" | Capacity: | 25.5" x 44" | Capacity: | 25.5" x 80" | Capacity: | 26" x 80" |
| Bar Capacity: | 4.00" | Bar Capacity: | 7.00" | Bar Capacity: | 7.00" | Bar Capacity: | 10.25" |
| Spindle Motor: | 40 HP | Spindle Motor: | 55 HP | Spindle Motor: | 55 HP | Spindle Motor: | 60 HP |
| 2 Machines | | | | | | 3 Machines | |
CNC Vertical Machining Centers
| | | | | | | |
| --- | --- | --- | --- | --- | --- | --- |
| VF-6 | | | | | | |
| Capacity: | 66" x 32" x 30" | | Capacity: | 84" x 40" x 30" | Capacity: | 16" x 12" x 10" |
| Special Features: | With 4th Axis | | Special Features: | With 4th and 5th Axis | | |
Conventional Machines
Vertical Milling Machine

Capacity:
21" x 60"
Capacity:
10" x 50" Table
Bar Capacity:
2.00"

Vertical & Horizontal
Milling Machine

Surface Grinder

Capacity:
12.5" x 50" Table
Capacity:
10" x 20" Table
Electrical Discharge Machines
Bandsaws
KC-226-2 Bandsaw

Capacity:
10" Round
Capacity:
10" Diameter Round
Capacity:
14" Diameter Round
Measuring Equipment
Mitutoyo LH-600 Linear Height Gauge

Capacity:
28" x 24" x 24"
Capacity:
0-38" Range
Processes